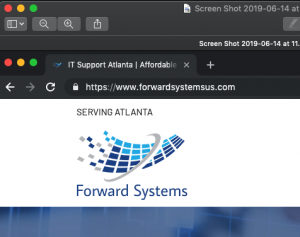 Websites that have https:// at the beginning of them and the lock icon in the URL frame are secure right?  The "s" in https stands for secure and the https plus the lock is supposed to signify that the web traffic is encrypted.  The media and security training told users to look for these features to know they are on a website they can trust.  That blind trust is exactly what cyber criminals are counting on.  We are starting to see websites and phishing emails that use the https to leverage that trust for their financial gain.
Don't trust the website just because there is a lock icon!  Here are some tips to make sure you don't fall victim:
Do not trust the name on an email; question the intent of the email content
If you receive a suspicious email with a link from a known contact, confirm the email is legitimate by calling or emailing the contact.
Check for misspelling or wrong domains within the link
At Forward Systems we are in the business of protecting our customers.  We are a security focused Managed IT company located in Roswell, GA supporting businesses in the Atlanta area.  Schedule a free consultation to assess your security at https://www.forwardsystemsus.com/security or call us at (770) 217-4566.